CALI'S POOL CLEANING & SERVICE
Pomona Pool Cleaning Service and Maintenance
Welcome to Pomona Pool Cleaners
If you have an outdoor pool or an indoor swimming one, you know the importance of choosing the best Pool Cleaning Services. When it comes to outdoor pools, you want to make sure that the pool is clean and is safe for your family and guests to swim in. In addition, it's important that the pool is kept free of debris, algae, and other pollutants so that you and your family can enjoy it all year-round without worrying about your health or the health of your guests.
Having a Clean and Safe Pool is not difficult with the help of the services of professionals like Pomona Pool Cleaning. But, there are many factors that you need to consider when you are choosing a pool cleaning service that meets your needs and expectations.
The first thing you should do is to look around your community or even search online to see if there is a pool service near me.
You will find our company as one of the best in the business and that we offer many pool services to meet all your needs. We have the experience and knowledge in this industry for many years and we take pride in providing our customers with the best quality cleaning, excellent customer service, and affordable prices.
Our team of professionals will provide you with a FREE estimate of what your pool requires for cleaning, maintaining it at an optimal performance level, and if there are any repairs needed. We will advise you and your family what is needed for day to day usage to maintain a clean and safe pool for you and your family and guests.
For those that are not aware, when it comes to getting a pool of your own, it is extremely important to understand how the company you choose to deal with is important. This is because most businesses in general do not have an interest in providing the best service for you.
Pool cleaning is one thing that most people take for granted, but when you own a swimming pool, you really need to think about what goes into making sure that you keep it clean and running properly. 
Most people realize that this type of service is a relatively small part of the overall operation of a pool but they really do not know what to expect when choosing the right professional.
One of the most important information about pool cleaning companies to have in mind when it comes to working with them is their experience. Having this in mind will give you a good idea of whether you are dealing with the best possible professionals. Our team at Pomona Pool Cleaning has the experience and knowledge you seek in a company to give you peace of mind that yours will be taken care of and that we will always offer you our honest advice.

Are you thinking about contacting our pros for pool cleaning services and maintenance? We will make sure to tell you about what you should expect, what types of services are available and a little bit more information on what we can do for you.
There is a basic service package that covers everything from basic maintenance to routine pool cleaning. If yours has just been installed or if it's only used occasionally, there is also the option of an annual service plan. This allows you to have complete control over how much cleaning you want to have done and how often.
Some of our services include things like the installation of a filter, a new pump, and a new cover on it as well. For those who have multiple pools, we can help with the cleaning of all of them at the same time. If yours needs some special attention, our team is always happy to come in and take care of the job.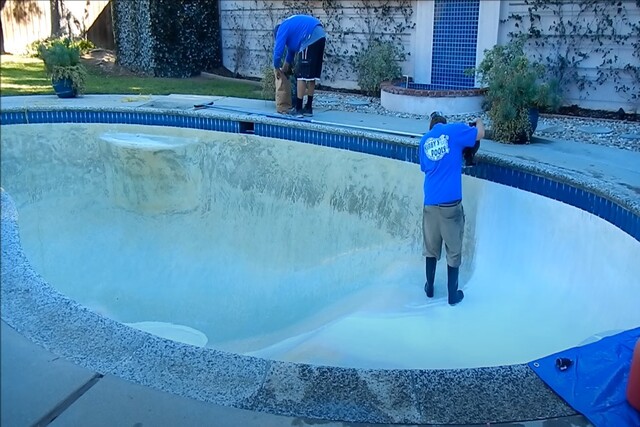 If you are wondering what the benefits of having your pool acid washed are, our experts will give you a little insight into what the process entails. The benefits are plenty. These will ensure that you are doing everything you can to keep yours and its surroundings healthy and happy.
Your pool should always be clean and crystal clear. Any time that there is a buildup of dirt and grime on the outside it, it is also creating a breeding ground for bacteria. Chlorine is very effective at eliminating this buildup, but it can also leave a residue behind. This residue can clog the filters and cause them to work harder than they should. Your pool is something that you probably take a lot of pleasure in, so you need to make sure that it stays clean.
Having regular pool maintenance done like acid washing is extremely important.  We will take the time to educate you on the benefits and learn more about the process and you'll see that it isn't nearly as scary as it might sound.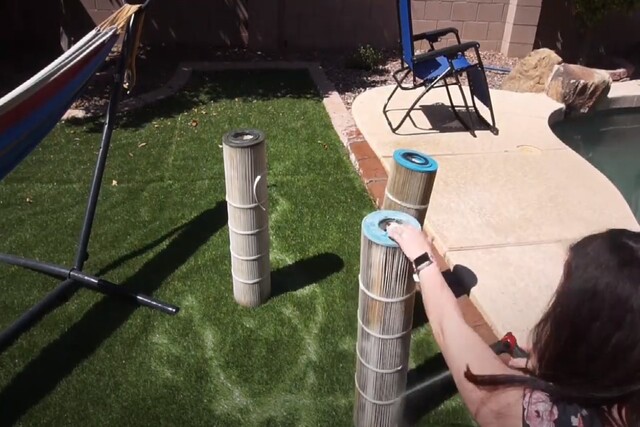 For those of you who spend a lot of time in the pool, you might be surprised to know that it is possible for a filter cartridge to become clogged with algae and other debris, even though they are not dirty. In fact, this is one of the main reasons why pool filter cleaners are so popular.
When cleaning your filter cartridge, always start at the bottom. It is best to work from the backside of the cartridge since it tends to be harder to reach.
One of the best cleaning tips for cleaning your filter cartridge is to use a little bit of chlorine because it is considered a disinfectant. You can also use a solution of hot water and soap water to clean the dirt off the cartridge but never use any ammonia, as it will only cause yours to smell bad.
This is especially true if you have a pool filter that uses a paper filter cartridge. Let our team of professionals take care of any and all of your pool filter cleaning so you can sit back and enjoy the good times and great weather!
If you have ever wondered what is required of you to do monthly pool maintenance, then you're certainly not alone. Many people are hesitant to spend money on their pools because they think that they can do the work themselves and save money.
While it may be possible to take care of your own, you will find that you'll spend more time cleaning and maintaining it than you would if you had it professionally cleaned. And it can actually be cheaper, in the long run, to have our team clean it. That's why it's important to do monthly pool maintenance.
It is the most obvious way to keep yours looking good and functioning properly. The only way to do that is to regularly clean it, make sure that the filter is clean and any other filters are working properly, and maintain the pH levels of the water. Doing this will ensure that yours stays clean and bacteria-free for as long as you own it!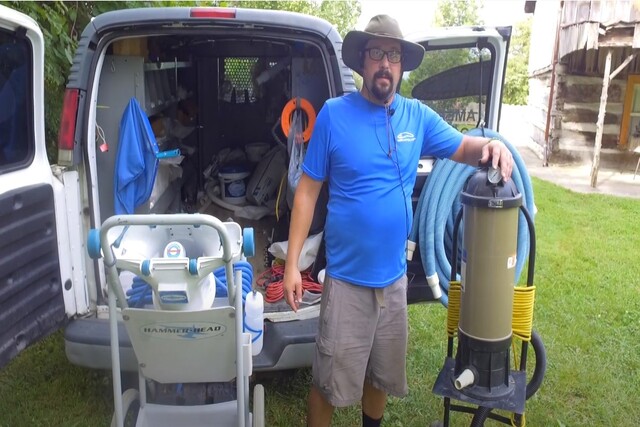 Pool tile cleaning is the key to ensuring its durability. While a few simple cleaning techniques will keep your tiled surface looking great, you can extend the life of your tiles by performing regular maintenance.
In general, a good tile cleaning is the single best way to ensure the longevity and vibrancy of your tiles, as well as their aesthetics.
Our team will come in and assess the condition of all of them and then give you our best recommendation and most cost-effective way to get everything looking brand new again! Our techs have the equipment and the solutions needed to give you the top quality service when you call upon us. We have the right-trained people in the industry to clean effectively and make them last for a long time. By just doing a regular clean up on a weekly basis, it will help keep the whole tile area in tip-top condition and the envy of your neighborhood.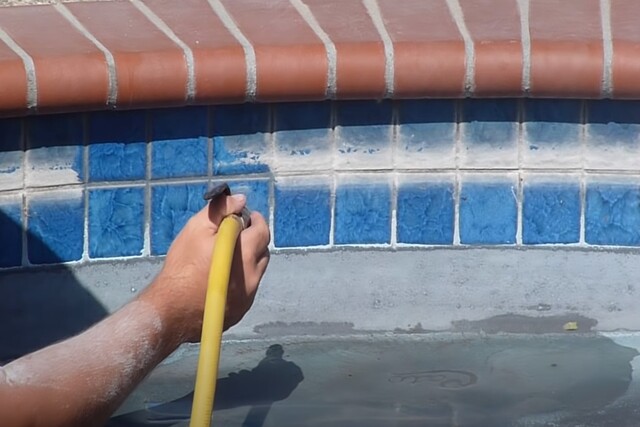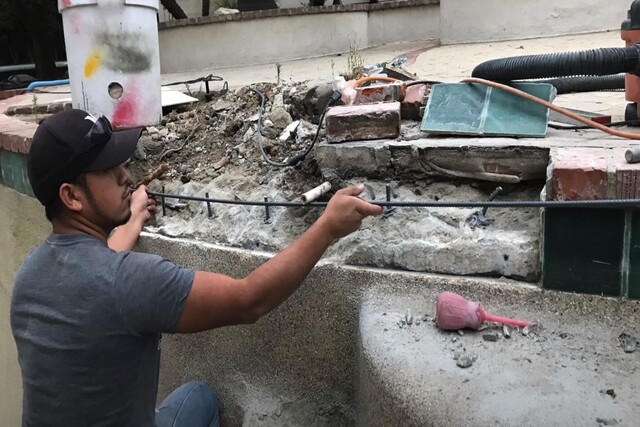 The first question that you are going to ask is "Do I really need swimming pool repair service?" This can be a tricky question, as there are many situations in which you will only need to do pool maintenance for one day and then you will be able to get on with your life without having to worry about it.
But first things first, the most important thing is to understand what exactly you are looking for. If it is not too big, to begin with, and the water is not overly dirty and stagnant, then you do not need any repairs. If you don't have the best pool in town and it is constantly full of bacteria, then you might need to have some repairs, or else that will just give you headaches all day. You should also pay attention to the location of yours if it is near any other structures that are nearby.
The main problems you are going to run into will depend on how often you use yours and where you live. In most cities, especially big cities like LA, pool repair is common.
If yours has been there for a while and it is still in good shape, then it is probably better if you call us to come out and look at it. However, you should never try to do your own repairs. It is very easy to make a huge mess, and that could end up making things much worse and be more costly.
Many of our customers contact our professional team to discuss some options that allow owners to combine a maintenance plan with another form of service, like aeration. You might be wondering why you would need both aeration and pool maintenance. Well, there is a growing concern among pool owners about how well it is maintained. They want to know how many times it is cleaned and how generally clean it is overall.
You can hire an aeration system or purchase a separate system for it There are even systems that will keep your water clean for a longer period of time when you are not using the pool. If you have a water filter, you can buy one that includes an automatic system for it to automatically switch to a clean, fresh supply of water when you leave the water.
A lot of owners get confused when it comes to what type of water filter they should buy? The type of filtration system that works best depends on the amount of chlorine that is in the water. If the chlorine level is too high, then a reverse osmosis filtration system would be the best option. If the level is too low, then you should consider an activated carbon filter.
The reason why you want to change the filter out on a regular basis is so you can keep the levels balanced. It will keep the bacteria level in check and the water clean and fresh.
The other way to ensure that yours is cleaned properly and maintained is to make sure that you schedule regular maintenance for it. You should call us for all your pool cleaning services and maintenance needs. We will come in and inspect everything on a regular basis. That way, we will be able to tell you if the levels are going too high or too low.
In summary, Pomona Pool Cleaning offers pool maintenance and cleaning for both residential and commercial facilities. Whether you need cleaning for the first time, are in need of some professional help, or are looking for something completely different for yours, contact us today and schedule an appointment with one of our expert cleaners.